Remipedia: Species
J.K. Lowry & M. Yerman
---
Godzillus robustus Schram, Yager & Emerson, 1986
Godzillus robustus Schram, Yager & Emerson, 1986: 41, figs 28-34.
Type material. HOLOTYPE: adult, 43.2 mm, USNM 216980.
Type locality. Cottage Pond, North Caicos, Turks and Caicos Islands, British West Indes.
Description. Based on Schram, Yager & Emerson, 1986: 41, figs 28-34. Body length large (27.5-45.1 mm), with 26-29 segments; pleura pointed posterolaterally. Head shield subtrapezoidal. Antenna 1 dorsal ramus (exopod) with 11 articles; ventral ramus (endopod) with 3 articles. Antenna 2 exopod with about 50-70 plumose setae along margin. Maxilla 1i0 prehensile; articles 2 and 3 free; article 4 without robust setae; article 5 without setae on posterior margin, endite present, endite club-like, perpendicular to margin of article; article 7 a long slender terminal claw. Maxilla 2 strongly prehensile; long, narrow distal to point of flexure. Uropodal rami shorter or subequal in length to anal segment.
Distribution. North Caicos Island, The Turks and Caicos.
---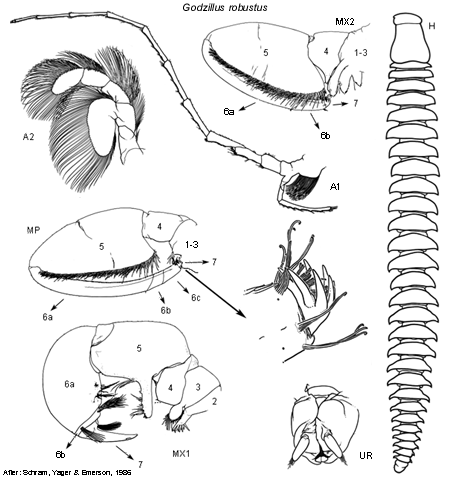 ---
Cite this publication as: 'Lowry, J.K. & M. Yerman (2002 onwards). Remipedia: Species. Version 1: 2 October 2002. https://crustacea.net'.